UnEducated: Barriers to Self-Sufficiency – A Panel Discussion
September 17, 2020 @ 12:00 pm

-

1:00 pm
Please join us for another informative panel on the incredible challenges Yeshiva graduates face after being denied a basic education in many ultra-Orthodox and Hasidic Yeshivas.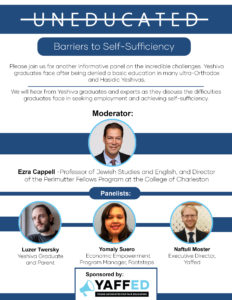 We will hear from Yeshiva graduates and experts as they discuss the difficulties graduates face in seeking employment and achieving self-sufficiency.
Moderator:
Ezra Cappell – Professor of Jewish Studies and English – Director of the Perlmutter Fellows Program at the College of Charleston.
Panelists:
Luzer Twersky – Yeshiva Graduate and Parent
Yomaly Suero – Economic Empowerment Program Manager, Footsteps
Naftuli Moster – Executive Director, Yaffed
A recording of this panel can be found here: