Exclusive Screening: An UnOrthodox Education
July 28, 2021 @ 7:00 pm

-

8:30 pm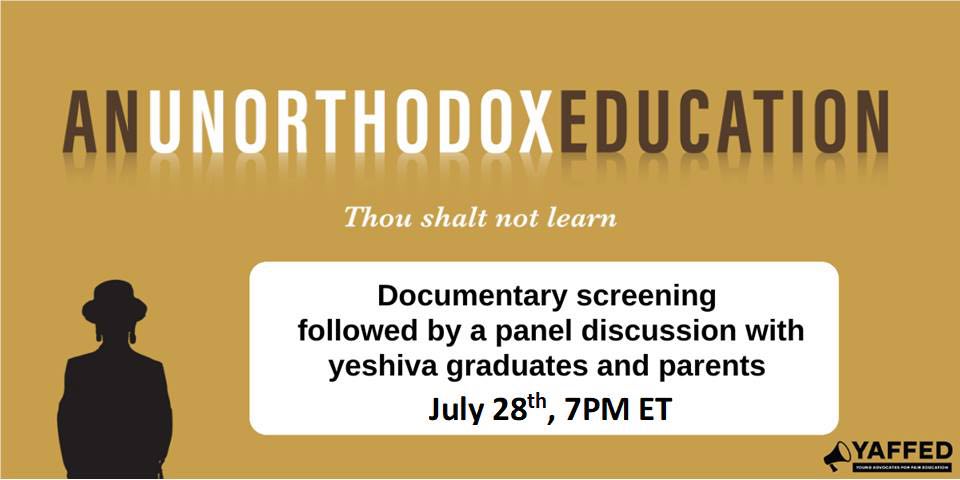 Join Yaffed for an exclusive virtual film screening of An Unorthodox Education to commemorate the six year anniversary of the 2015 complaint letter sent by yeshiva graduates and parents to NYC's DOE and to mark another year of the City's continued inaction.
Directed by Joe Kolman, this independent documentary-in-progress exposes a shocking truth– tens of thousands of children attend Hasidic yeshivas in New York that refuse to provide students with the legally-mandated general education they need to lead self-sufficient adult lives. Hear directly from former students and parents as they tell their striking stories for the very first time, illuminating the consequences of being denied instruction in subjects like English and math. Learn how New York City's outgoing Mayor delayed reform efforts in return for political favors from the Ultra-Orthodox community, and how scientific ignorance led many in that community to protest COVID-19 safety protocols.
The 40 min. screening will be followed by a live Q&A featuring 4 panelists who appear in the film:
-Naftuli Moster, YAFFED Executive Director and a former student of Hasidic yeshivas who is leading the fight to ensure all children receive the basic education to which they are legally entitled
-Pesach Eisen, a Hasidic yeshiva graduate and mental health professional who was an original signatory to the 2015 complaint letter in which the signatories alleged that the 39 yeshivas named in the letter had failed to provide them with a substantially equivalent education.
-Beatrice Weber, an outspoken advocate and mother of 10 who filed a lawsuit against NYC's Department of Education and her son's Hasidic yeshiva, contending that he was not receiving an adequate education.
-Elana Sigall, an attorney, professor, education policy expert, and a producer of An Unorthodox Education.