Rally in Support of Education Standards in Yeshivas!
June 16, 2021 @ 10:00 am

-

11:00 am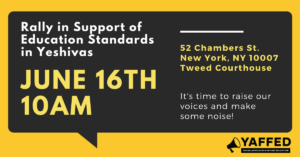 There's a lot of noise around where the mayoral candidates stand when it comes to the issue of secular education standards in Hasidic Yeshivas.
But our current mayor seems to be trying to run out the clock, and we must not let him get away with it.
In December of 2019, the New York City Department of Education found that 26 of the 28 Yeshivas they investigated (since 2015) did not meet minimum standards of "substantial equivalency." In the report, the DOE promised to remediate the problem immediately. Yet a year and a half later, there's no sign of the city even making an effort.
Come out to (socially distanced, but in-person) call on the city to show us what they have done in the 6 years since the investigation was started to improve things for the tens of thousands of children who are attending those Yeshivas and are being denied a basic education every day.
We have signs and T-shirts (for keeps!) for all attendees.
Bring your friends too!
The location is:
52 Chambers St, New York, NY 10007
(AKA Tweet Courthouse building)