Call Out NYC For Not Completing Its Investigation Into Haredi Education
July 27, 2021 @ 11:30 am

-

12:30 pm

Free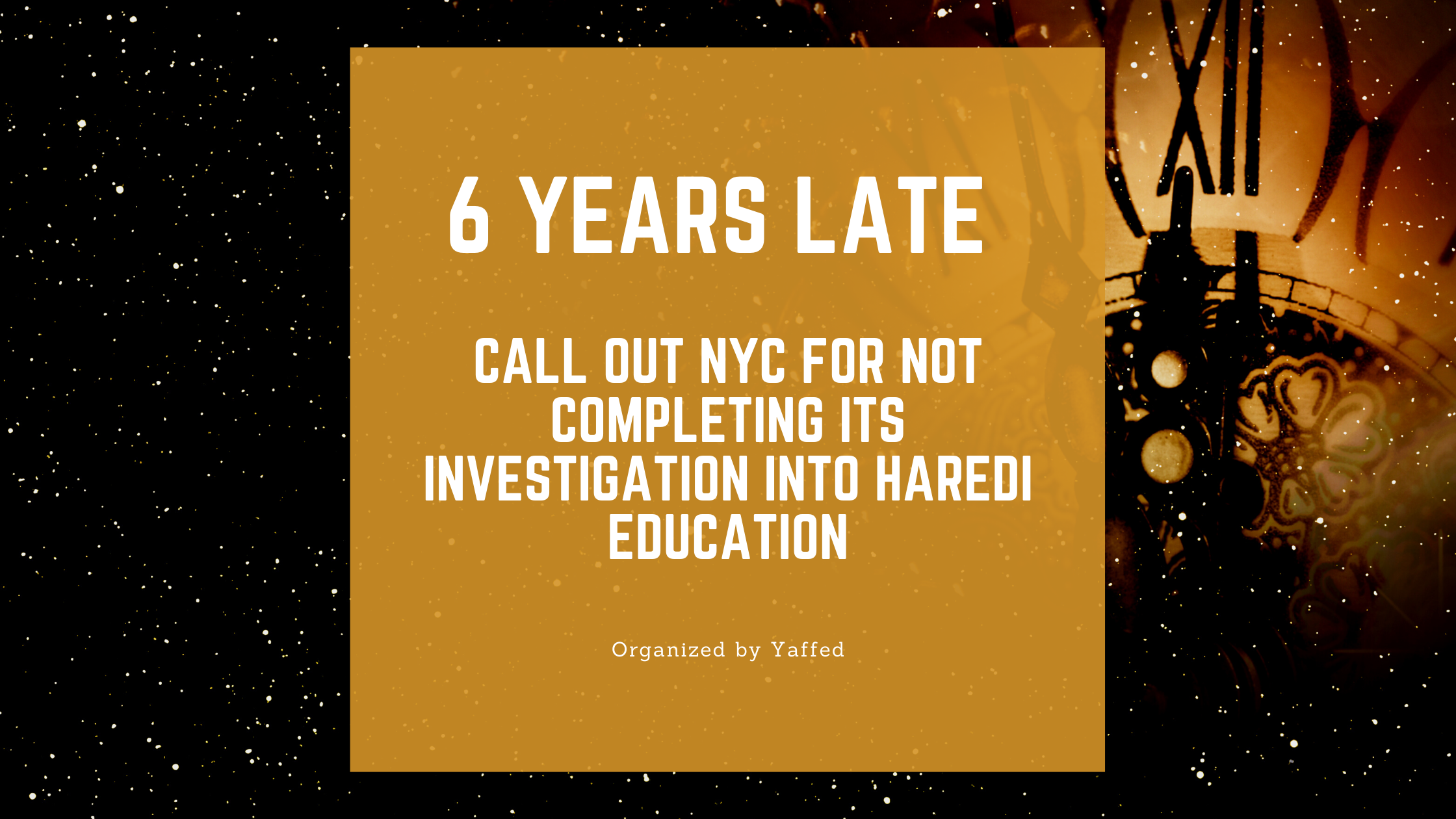 On July 27th, 2015, when we first filed our complaint that many Hasidic yeshivas were not providing its students with adequate education as required by law, none of us could have imagined that 6 years later, we would still be waiting for any concrete action from the city.
Thanks to our work, the city did launch an investigation, and nearly 4 & ½ years later concluded that our allegations were unfortunately confirmed. The city found that 26 out of the 28 investigated yeshivas were not meeting basic education standards. They have yet to remediate even one of these schools.
It should not take six years and counting for the city to enforce minimum standards to ensure that kids are learning English, math, science, and social studies. Let's tell Mayor de Blasio and the NYC Chancellor Meisha Porter that this is unacceptable.
SAVE THE DATE: July 27th @ 11:30 AM
Who: YAFFED, Yeshiva parents, graduates, and supporters
What: Stage a public action to demand that NYC complete its investigation and enforce substantial equivalency standards
When: July 27th at 12:30 PM
Where: 52 Chambers Street, on the steps of the headquarters of the NYC Department of Education
Why: July 27th, 2021 marks the SIX YEAR anniversary to the day of when Yaffed delivered its original complaint to the NYC Department of Education. Years of inaction and "political horsetrading" followed. Even after the city produced its findings, it has failed to take any meaningful action to remedy the situation.
We need your help to hold our officials accountable, so that tens of thousands of children receive the education they are currently being denied.
Join us on July 27th.
More details to follow.